The psalmist says we have been wonderfully made by God.
I praise you because I am fearfully and wonderfully made; your works are wonderful,
Psalm 139:14.
In the many years I practiced as a psychotherapist, I grew to realize that no matter who we are, we are bound to do the bidding of the ruler of this world. We become the purpose of our lives. And the cost for that is great.
But mark this:There will be terrible times in the last days, People will be lovers of themselves, lovers of money, boastful, proud, abusive, disobedient to their parents, ungrateful, unholy, without love, unforgiving, slanderous, without self-control, brutal, not lovers of the good,treacherous, rash, conceited, lovers of pleasure rather than lovers of God—having a form of godliness but denying its power.
2 Timothy 3:1-5a
And yet we are a people that long to love and be loved. Yet we are unable to love as we were created to love. We must be set free.
As has just been said: "Today, if you hear his voice, do not harden your hearts as you did in the rebellion."
Hebrews 3:15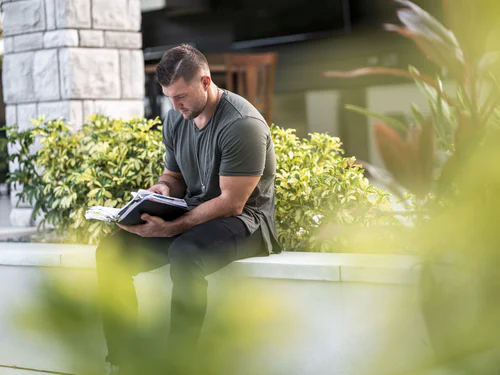 This Word Paul shares with his young friend Timothy as he does with us.
Preach the word; be prepared in season and out of season; correct, rebuke and encourage—with great patience and careful instruction.
2 Timothy 4: 2
We are a people who enjoy improvising, not only concerning our own lives but with the Word of God. We love to wander off on each new idea that appears concerning how the Word of God applies to our own desires. We would be tempted to think Paul's words to Timothy were harsh but they are not. God must constantly intervene in our lives in order that we might accomplish the purposes for which we were created.
May God himself, the God of peace, sanctify you through and through. May your whole spirit, soul and body be kept blameless at the coming of our Lord Jesus Christ.
1 Thessalonians 5:23
To fulfill this life of sanctification, God has given us three special gifts through which we accomplish His purposes.
God created us with physical bodies.
We are living in an age when the knowledge our five senses experience has become the reality in which we live. While writing the book Beyond Ourselves, I spent time researching the amazing life of Charles Darwin. Gradually, what his physical body could know became reality to him. But our bodies are the outward and visible part of a much greater reality.
God created us with a living soul.
And the Lord God formed man of the dust of the ground, and breathed into his nostrils the breath of life; and man became a living soul.
Genesis 2:7 kjv.
The living soul is that invisible part of us that thinks, reasons, considers and remembers. It reveals itself through all the cycles of our emotions. The most purposeful ways in which we can relate to each other happen when God guides our souls.
Therefore, get rid of all moral filth and the evil that is so prevalent and humbly accept the word planted in you, which can save you.
James 1:21
Praise our God, all peoples, let the sound of his praise be heard; he has preserved our lives and kept our feet from slipping. God has created us with a spirit.
Psalm 66:8-9
God created us with a spirit.
Because our souls and physical bodies are made from the earth, the spirit must intervene in our live through the Word of God.
For the word of God is alive and active. Sharper than any double-edged sword, it penetrates even to dividing soul and spirit, joints and marrow; it judges the thoughts and attitudes of the heart.
Hebrew 4:12

The spirit of God guides the believer to discernment, often referred to as being enlightened.
Today, if only you would hear his voice, "Do not harden your hearts as you did at Meribah, as you did that day at Massah in the wilderness.
Psalm 95:7b-8.
(Meribah refers to arguing and quarreling. Massah means testing.)
As the Psalmist uses the word "today," it's a spiritual term referring to when we receive God's Word by faith. We then live by faith. This occurs not in our bodies or mental beings but in our spirits which are led by the Spirit of God. John 3:6
This is a spiritual relationship God establishes in us. He establishes this relationship in us through His Son, Jesus Christ. A "Born again Christian" is he/she who has accepted by faith all that Christ has done for them that assures them of a relationship with God.
The term "Born again" was originally used by Jesus as He spoke to Nicodemus.
Jesus answered, "Very truly I tell you, no one can enter the kingdom of God unless they are born of water and the Spirit."
John 3:5
This rebirth in baptism begins the life-long process of committing our lives to something far greater than ourselves.
I have been crucified with Christ and I no longer live, but Christ lives in me. The life I now live in the body, I live by faith in the Son of God, who loved me and gave himself for me.
Galatians 2:20
Thomas Goodwin who lived in the 1600s wrote that he set out to become a celebrity preacher, known for his wit because his 'master-lust' was the love of applause. But that "today" experience happened for him when he was listening to a moving funeral message that made him concerned about his spiritual state. What caught his attention were the words of the minister, "Look not within one's self, but beyond one's self to Jesus Christ."
What peace these words, spoken nearly 380 years ago, can bring to a people such as we who live not by the spirit but by the flesh. For Christ, the lamb of God became the sacrifice that frees us from the flesh.
For we do not have a high priest who is unable to empathize with our weaknesses, but we have one who has been tempted in every way, just as we are—yet he did not sin.
Hebrew 4:15